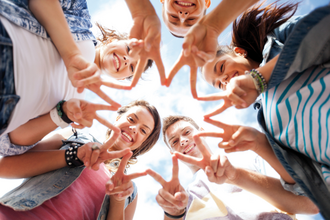 The International School Kufstein Tirol is located in the buildings of the University of Applied Sciences in Andreas-Hofer-Straße 7, 6330 Kufstein. Access to the school can be gained via the entrance in Krankenhausgasse.
CATHOLIC AND INTERNATIONAL PRIVATE SCHOOL – WHAT DOES THIS MEAN?
We are a private catholic school, privately funded and independent. The private foundation of the University of Applied Sciences Kufstein Tirol is the body maintaining the school. The archdiocese of Salzburg is our cooperation partner. ISK Tirol is under the supervision of the Austrian educational authority. We are an Oberstufenrealgymnasium (special type of upper-cycle academic secondary
school) with public status. Students are taught according to the Austrian curriculum and the International Baccalaureate Organization curriculum.
We are a cosmopolitan meeting place for different beliefs and cultures. ISK Tirol is committed to the Christian humanistic tradition. Our students are expected and encouraged to think deeply about varied ethical and moral matters, to find answers and to take responsibility for themselves and others in all of life's situations, also in a global sense. In this respect ISK Tirol sees itself as an international catholic school, as a place of learning, open to all motivated adolescents, independent of their origins and religious affiliations.
WHEN DOES ISK TIROL OPEN FOR ADMISSION?
Classes at ISK Tirol began with the 2015/16 school year in September 2015.
ARE ALL OF THE SUBJECTS TAUGHT IN ENGLISH?
English is the common denominator of language diversity. The students will steadily increase their English language skills. English is basically the language of instruction, with the exception of the other languages being taught (German, Spanish).
WHO SHOULD ATTEND ISK TIROL?
In principle all adolescents from 10/11 resp. 14/15 years of age who are interested in languages, science subjects, creative subjects, business and economy and information technology are welcome to our school. The school, free of all social boundaries, is open to all students, independent of their origins and religious affiliations.
As a prerequisite applicants must have successfully completed their previous schooling and should enjoy speaking English. Applicants should be dedicated and highly motivated to obtain the International Baccalaureate, an internationally recognized school leaving certificate with English as the language of instruction, and the Austrian Matura, the Austrian equivalent to A-levels or a high-school diploma.
WHAT ADVANTAGES DO STUDENTS EXPECT TO GAIN FROM STUDYING AT ISK TIROL?
An education at a denominational, private IB World School with English as the language of instruction and an emphasis on the sciences, embedded in a modern university campus with all its facilities (sports hall, library, cafeteria, service center, etc.)
Individualized learning and the promotion of individual talents and gifts
Day school (lunch provided) with supervised care for students
A school free of social boundaries which offers reductions in tuition fees based on financial situation and a scholarship system
An innovative curriculum with a forward-looking approach
English is the common denominator of language diversity (German, Spanish and French)
The International Baccalaureate and the Austrian Matura are school leaving certificates which allow students access to national, European and international universities
Flexibility in selecting teachers. Our classes are run by highly qualified and highly motivated teachers with a wide range of experience. Our teaching staff also includes native speakers.
The ISK Tirol teachers act as coaches, hand in hand with the students, to ensure that the students' needs are met.
The ethical and moral values and character building at this private catholic school are based on Christian humanistic ideals.
Our school aims to promote international and intercultural thinking and practice. Students are encouraged to demonstrate the character traits outlined in the IB Learner Profile.
Students are early on encouraged to develop scientific and research-oriented work methodologies.
The school aims to establish cooperation with commercial enterprises and post-secondary education institutions.
WHAT IS THE ADMISSION PROCEDURE AT ISK TIROL?
1st Step: Applicants must submit the completed application form to the school.
2nd Step: Applicants must complete the standard admission procedure:
Personal interview (headmaster, parents, student) - this is not an exam.
3rd Step: Applicants are informed of the outcome and the admission procedure is completed.
WHAT IS THE TUITION FEE AT ISK TIROL?
Please visit "Tuition Fees & Costs". Students may apply for a reduction in tuition fees based on financial situation or for a scholarship.
WHAT CURRICULUM DOES THE SCHOOL FOLLOW? WHAT SCHOOL LEAVING CERTIFICATES DOES ISK TIROL OFFER?
A modern curriculum - based on the IB Middle Years Programme (MYP) - is offered in the 5th to 8th grades. The first year at ISK Tirol is taught bilingually (in German and English) and monolingually (English). From the second year onwards, English is the language of instruction.
The curriculum of an "Oberstufenrealgymnasium" with the contents of all common subjects provides the basis for teaching in the four-year upper school period (9th to 12th grade). As an "IB World School", ISK Tirol is also entitled to offer the "IB Diploma Programme (DP)" or the internationally renowned "International Baccalaureate" school leaving certificate in addition to the Austrian curriculum and the Matura.
DOES THE TUITION FEE INCLUDE LUNCH?
Yes, ISK Tirol students can eat lunch together in the cafeteria of the University of Applied Sciences. The cafeteria provides freshly prepared, high-quality meals that are included in the tuition fee.
DOES ISK TIROL OFFER FINANCIAL SUPPORT?
Yes, students may apply for a reduction in tuition fees based on financial situation or for a scholarship. ISK Tirol is a school without social boundaries. For further information visit our website (Financial Support) or contact the school administration.
WHAT DOES A TYPICAL SCHOOL DAY AT ISK TIROL CONSIST OF?
Core instruction units alternate with coaching sessions, exertion and relaxation phases
Sports activities break up the school day
Study periods
Lunch and time to relax
IS THERE A WAITING LIST FOR ADMISSION TO ISK TIROL?
Yes, a waiting list will be started, if necessary. Applicants who could not be admitted may ask to be placed on the waiting list.
IS IT POSSIBLE FOR STUDENTS TO START STUDYING AT ISK TIROL IN A HIGHER GRADE THAN GRADE 9?
Yes, this is possible, in principle. Please contact the school administration to discuss details.